1. PDF-annotation apps for those who are kind of "old school" (iPad) 📝
PDF Expert vs. Goodnotes (and iAnnotate)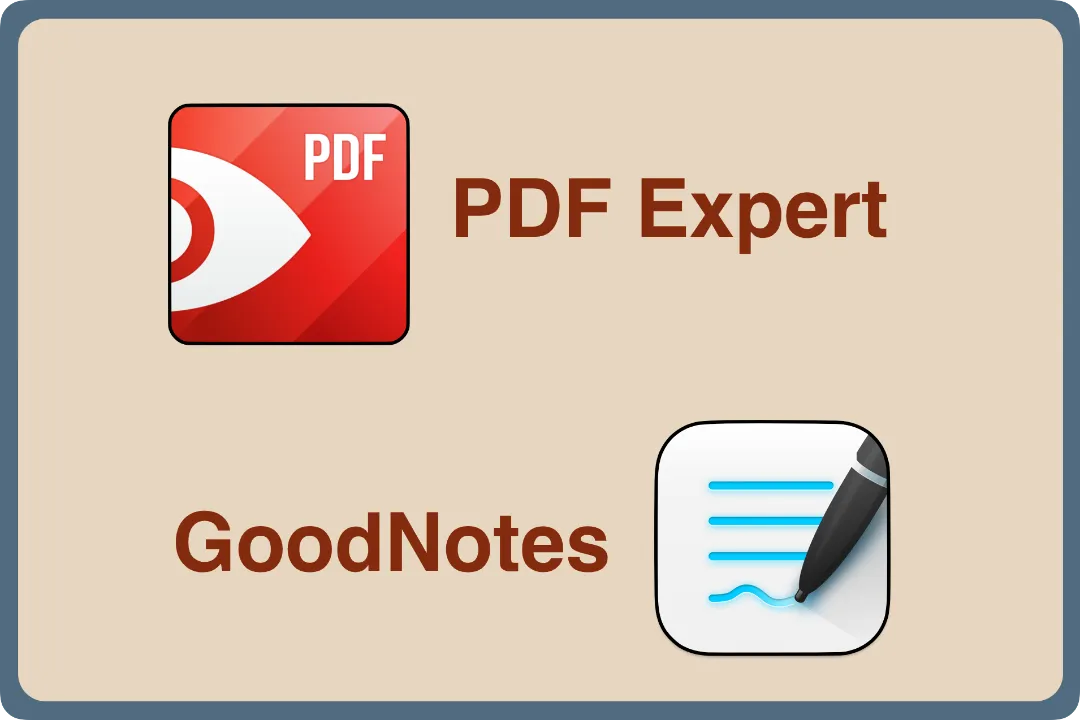 Note: this is just one section of my "Guide to becoming maybe a maximally happy PDF annotator (iPad)." You can find the intro to that guide and other sections of it by going here.
To be "old school" here means that you are accustomed to printing up hard copies of PDFs, which you then highlight or mark up with pen or pencil. If that's you and you want to take things up just a notch or two, there are two apps you should consider: PDF Expert and GoodNotes.
PDF Expert is for those who are a bit more interested in highlighting text than they are in making handwritten notes, whereas GoodNotes is for those who are interested in the opposite (and especially for those who want their handwritten notes to be searchable).
PDF Expert (for highlighting)
Like plenty of other apps out there, PDF Expert does a great job when it comes to making handwritten notes on PDFs. But what it excels at, especially in comparison to GoodNotes, is highlighting text.
The highlighter in GoodNotes snaps quickly to the beginning and ending of words, thus reducing the number of times you need to re-do a highlight.
Moreover, after highlighting a portion of text, you can tap on it and quickly
change the color of the highlight
add a note
copy the highlighted text so that you can paste it elsewhere
The video below shows all three of those things in the order in which they are listed above (the copied text is pasted into Apple Notes, using the Quick Note feature). It also shows that you can view your highlights in the PDF Expert sidebar. (Note: the video has no sound.)
Overall, PDF Expert is a breeze to use and will probably suit your needs if you're old school. But if you ever plan on importing PDF annotations into a connective-thinking app, PDF Expert might not be the best app for you to use, for reasons given later in this guide to PDF-annotation apps.
An alternative to PDF Expert: iAnnotate
PDF Expert's clean interface is a plus, but if you (a) are fine with a less polished interface, (b) want customization options that PDF Expert provides only in its pro version, and (c) don't want to pay $50/year for PDF Expert's pro version, then consider iAnnotate.
You can purchase iAnnotate for a one-time fee of $9.99 and then get to work on customizing the app's toolbar. Actually, you can customize two toolbars and quickly switch between the them, which is one of the things show in the short video I made below.
One potential drawback of iAnnotate for those who want the annotation process to be as quick and smooth as possible is that after highlighting some text, you need to long-press on it with your finger—not simply tap it with your stylus—in order to display the menu of options (including the option of making a note on the text you have highlighted).
GoodNotes (for handwriting)
GoodNotes shines when it comes to handwritten text: such text can be re-sized and is searchable.
Re-sizing text is a nice feature to have when you find yourself making handwritten notes in the margin that are longer than you thought they would be when you started making them (which happens like all the time).
Searchable handwritten text is an amazing feature for those who want the benefits of searching their notes and just can't stand typing out those notes on the iPad (or don't like using Scribble, the handwriting-to-typed-text feature that is built in to the iPad).
This two-minute video demonstrates GoodNotes's re-sizing and searchable-handwriting features (along with a few others). You might also want to check out the screenshots below, which show how good Goodnotes is at finding handwritten text (as compared to Notability, which also can search handwritten text).
Searchable handwritten text in GoodNotes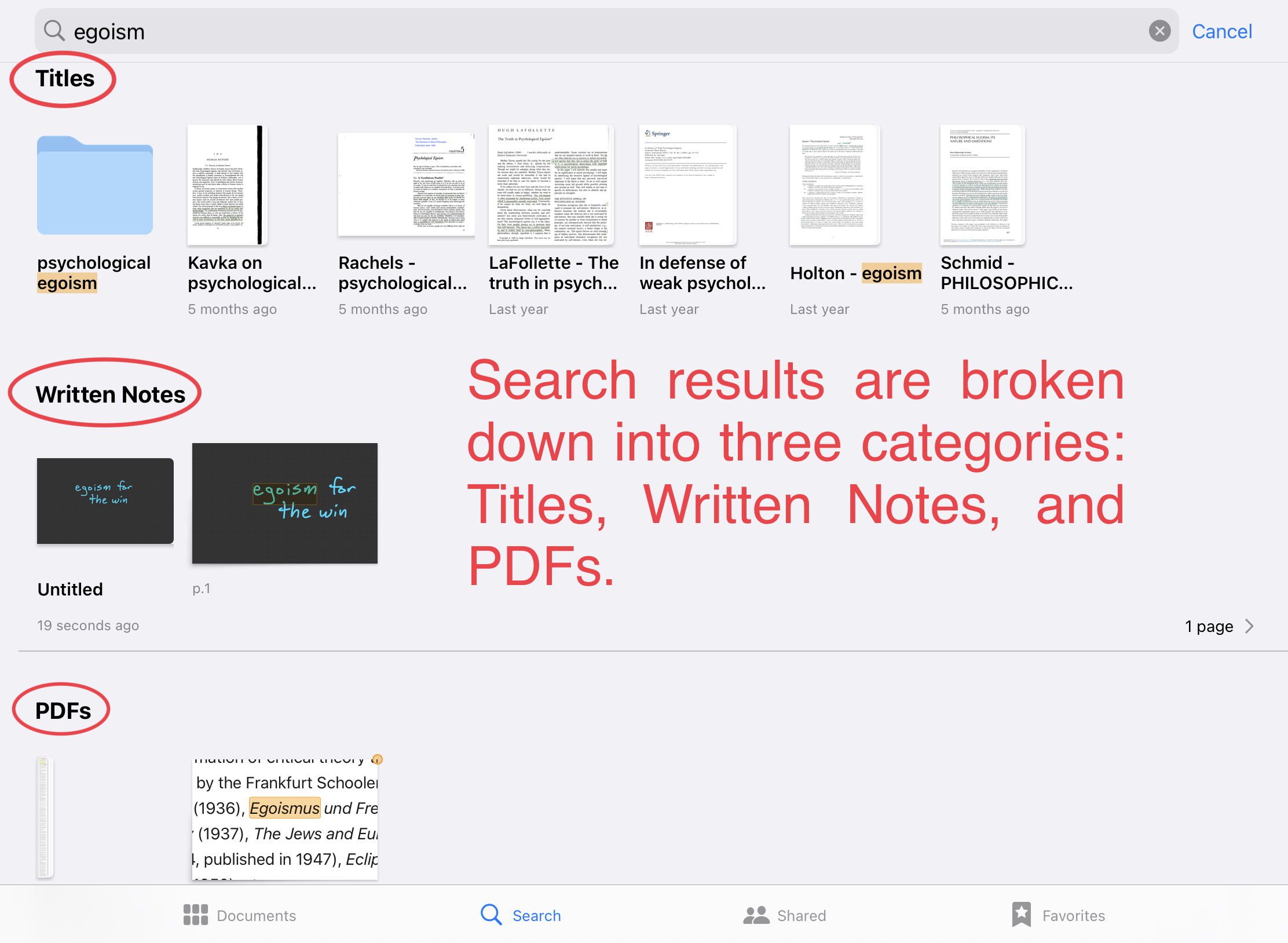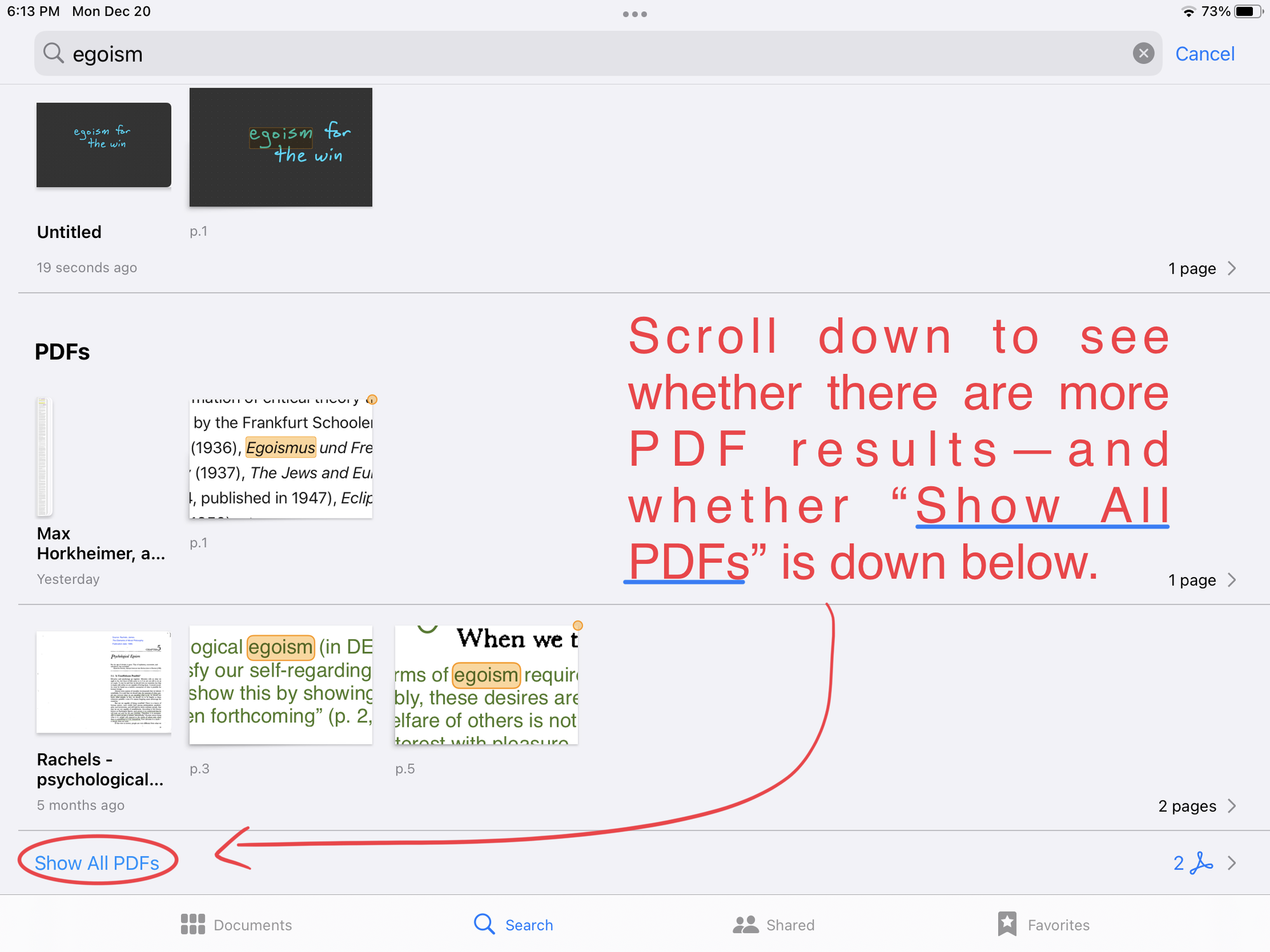 Searchable handwritten text in Notability

✍️ Don't like the slippery feel of writing on an iPad screen with an Apple Pencil? You might want to try out something like Paperfeel (which is what I use) or Paperlike. (FYI: I earn zero dollars if you click on those links and buy one of those things.)